Round two!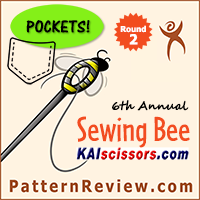 This is my second Seamwork Audrey denim jacket. I adored the first one, but I longed for a second version, a bit lighter, with some fine fit tuning, and of course, more pockets. The first jacket was done in a heavy denim and had a shocking lack of pockets, which only became apparent after the first few outings. The pockets theme of this contest jump-started my project: Seamwork Audrey Jacket – Round 2.
I love the design lines of the Audrey. It features two generous welt pockets, which fall out of sight on the side of jacket, and can hold quite a bit. But, that was the only outside pocket provided. An informal pocket was formed on the inside of the jacket, by the welt pocket bag itself. There were two pocket flaps on the chest but no pockets beneath. While wearing the jacket I found that getting things in and out of the welt pocket was slightly awkward, especially my cell phone, which went to voice mail often before I could fish it out.
So for round two, I decided to add pockets underneath those pocket flaps. But, I wanted to honor the flattering slanted seam lines in the center front jacket. The area between those lines would not accommodate my cell phone. The solution was to make those pockets, bellow or gusset pockets, which needed to be trapezoidal instead of rectangular in order to follow the current seam lines. Next, I wanted a sealed or zippered pocket, for my emergency cash, my id, my credit card, and my keys. I did not want to worry about these falling out of the pockets. A small zippered pocket was added to the upper left sleeve, which was easy to access with my right hand. I kept the original welt pockets as they are perfect for slipping your hands into while walking on a brisk day, and holding a pair of gloves. I polished up the internal pocket by adding edging on to the internal welt pocket bag. This jacket would now have four different sets of pockets making it perfect for dashing out the door.
Two other changes were made. I add two shoulder straps. I have relatively short sloping shoulders. The shoulder straps added some visual height to my shoulders as well as providing a place to hook my purse's shoulder strap on. No more purse slipping off my shoulder while shopping. With traditional sewn denim buttonholes white whisker threads would start to appear with wear. This is a real pet peeve of mine. I changed all THIRTEEN buttonholes into tiny double welt or bound buttonholes. This required some careful consideration during construction, as the front of the buttonholes were added prior to assembly, and then back of buttonholes were opened up after assembly. The welt pocket bag had to be altered as to not fall underneath several of the front buttonholes.
This jacket has 16 welts on it, 13 double welt buttonholes, a zippered welt pocket, and two single welt pockets. For each welt, I traced my welts on to the wrong side of fabric, and on to wrong side of interfaced welt fabric. I then hand basted stitches into the four corners of both welts. I would leave two tails, and then I would gently pull on both tails, causing the upper and lower welts to align perfectly every time. After the garment was assembled I carefully cut out the welt, in each buttonhole on the double Y's, and used reverse hand applique, to finish off the back of the buttonholes. Time consuming but the results were worth it.
I chose a medium weight dark denim, with a tiny woven polka dot like flower pattern, which I have had in my stash for a couple of years. For top stitching I used a medium gray Aurafil 28wt cotton thread with 90 jeans needle. Finding 13 matching buttons was a challenge, as our local stores only offer a small selection of buttons, and rarely stock more than a dozen of each type. I started with my last drafted pattern version of Seamwork's Audrey, but, shortened the sleeves, and brought the waist in by approximately four inches. The original pattern version had the following alterations: shortened the shoulder seam, added 4" to upper sleeve width, and graded, from 20 bust to 22 waist. I enjoyed following along with the online class video, in addition to their excellent written instructions.
I am incredibly happy with the outcome. This is exactly the jacket I had been visualizing in my head after my first Audrey denim jacket. The bound buttonholes were time consuming but I love the clean finished look. Drafting and sewing the trapezoidal gusset pocket took some experimentation but it fits my cell phone perfectly, providing quick access, so no more missed calls. I agonized over the drafting and placement of the shoulder straps, especially in relation to the dropped shoulder seams. Denim brings its own sets of challenges. I highly recommend jeans needles, and straight stitch plates. The top stitching was nerve wracking as I chose a high contrast between the thread and denim. Lots of practice on top stitching and welt making went on.
A couple of notes for next time: the side seams and underarms are sewn and then the edges of the seam allowances are finished separately. I would have finished the edges prior to sewing. The inside is tidy, and I understand the practicality for faux flat felled seams in denim, but I might be tempted to try real flat felled seams for making the inside as pretty as the outside. Of course, I would not recommend completing my next version in just under a week. I definitely recommend this pattern.