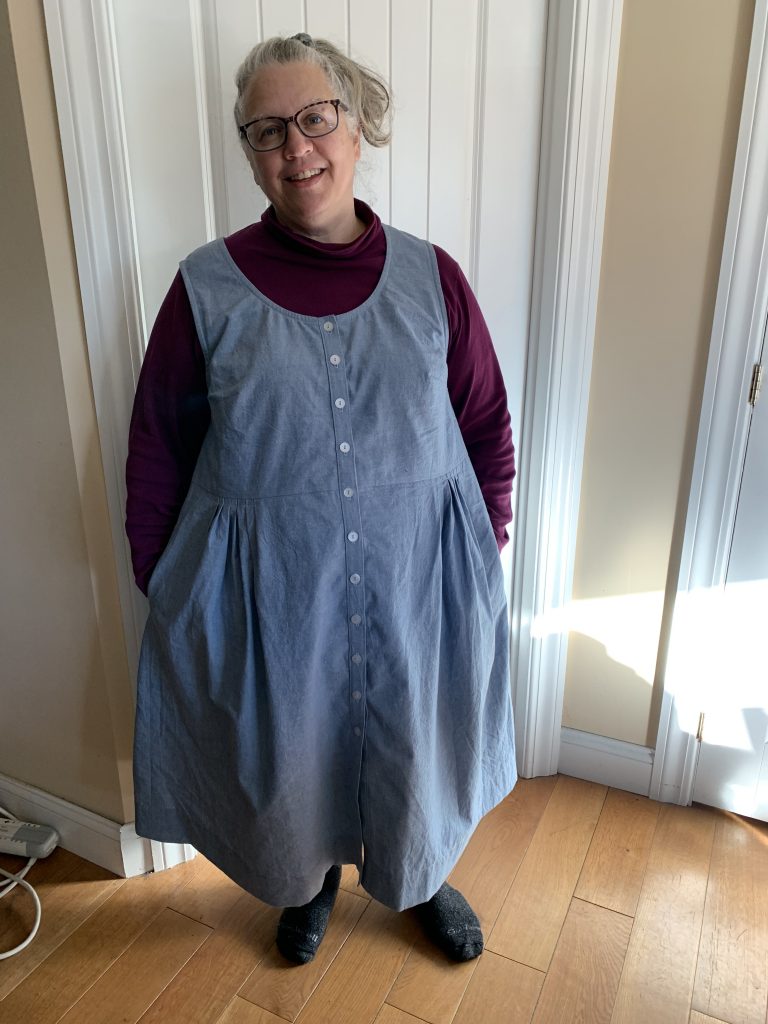 Looking for the pattern library? Click here Announcing the Pattern Library
on with the review of Sew Liberated's Hinterland Dress in extended sizes…
Years ago I fell in love with Sew Liberated's Hinterland dress. It did not even come close to my measurements, but I purchased it anyway, vowing to grade it out. I never did, and recently revisited it and discovered it was being offered in extended sizes. I traced out the pattern grading from size 22 bust to 30 waist to 32 hips. I pinned the pieces on my dress form, and immediately saw that the shoulders were off, and the bust dart needed to be moved. I also recognized that my large arm bicep would require a larger sleeve, so I used a size 28 sleeve and drew the size 28 armscye onto my size 22 bodice. Undaunted, I continued to make my long awaited Hinterland dress.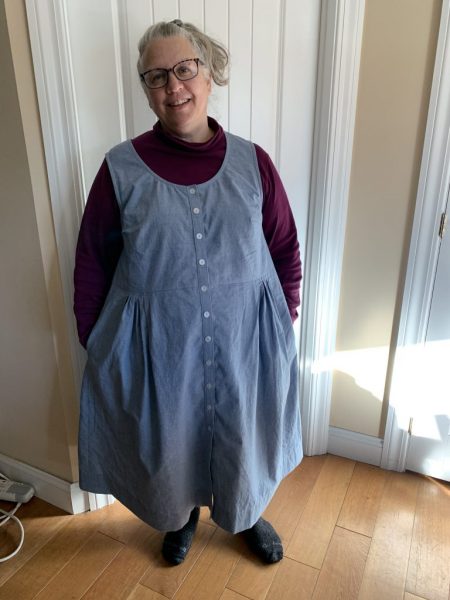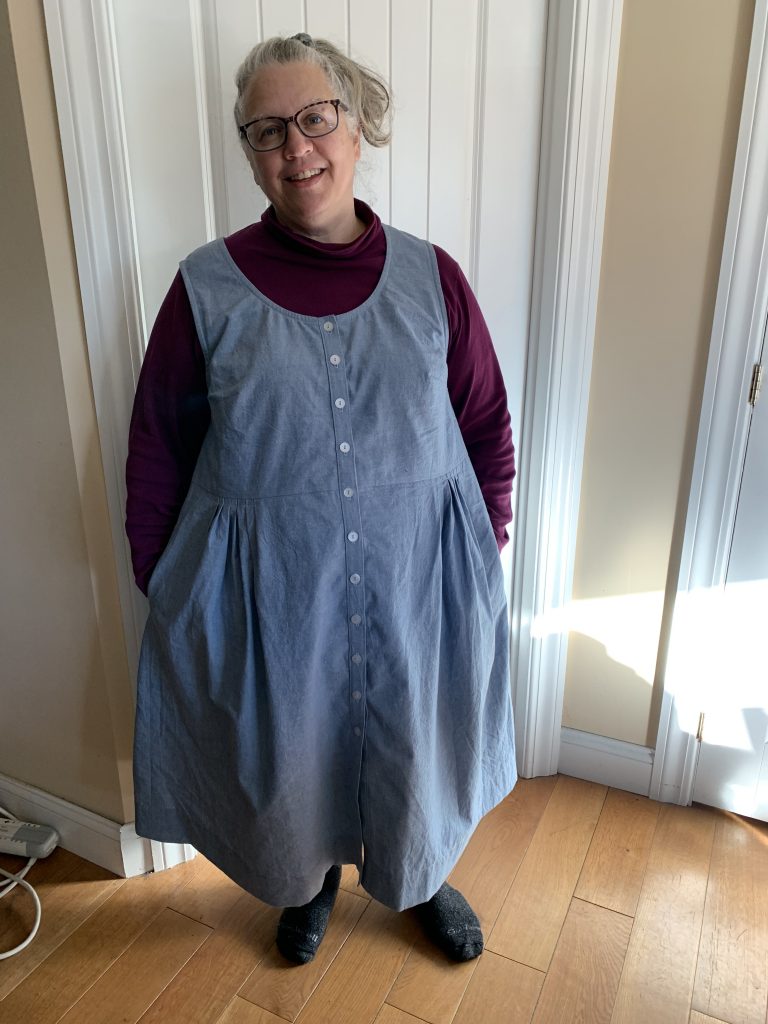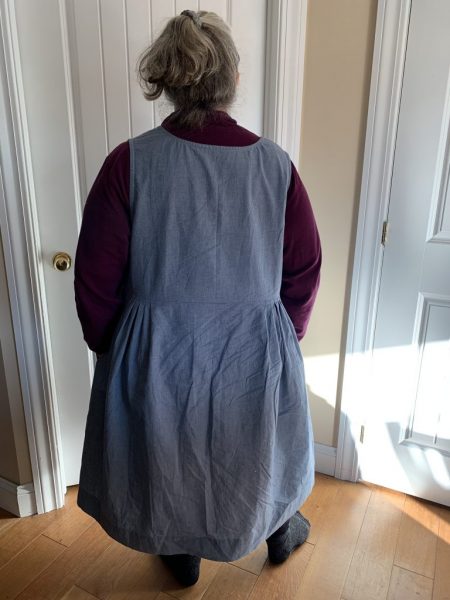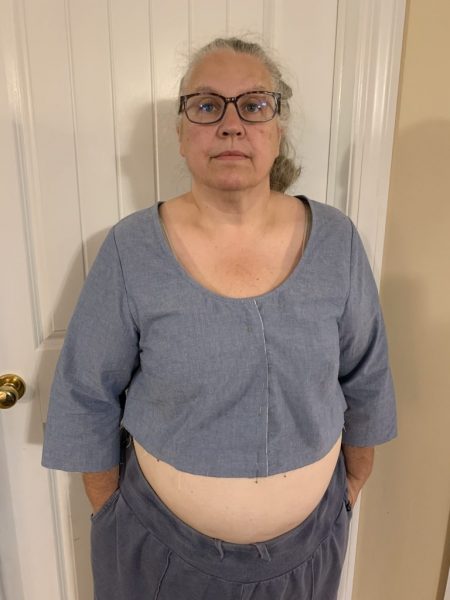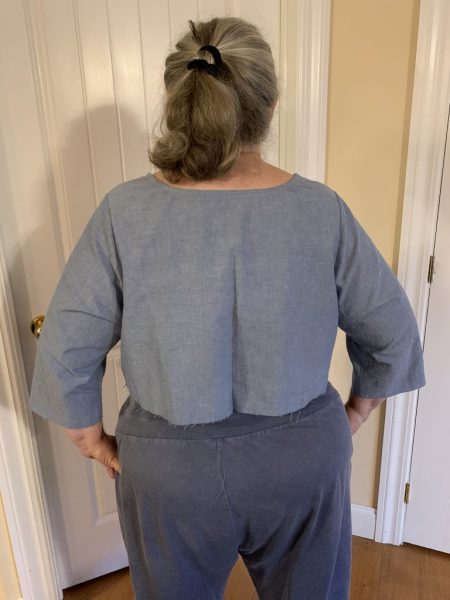 My first major mistake was to cut into some of my favorite chambray. Sewing up the bodice went smoothly. The bust dart landed in the right place, and the shoulders were sitting as expected. The first noticeable problem was the neckline was low. Way too low for me to wear without something underneath it. Okay, not the end of the world. I sewed the sleeves on, and the second wave of disappointment hit, with the sleeves, I felt like I was in straight jacket. It looked perfect if I was still, but felt confining across back and arms when I moved, and yet at the same time the front bodice seemed loose. The neckline was both too wide and too low. The back of the neck fell away from my upper back. Problems I have not really encountered on other makes.
Keeping an open mind, I cut the skirt, the full width of fabric adding inches to allow more gathering. Even with added width the gathering was not sufficient. Photos of smaller sizes had plenty of gathers, so I am left to wonder why so little gathering on my size. I managed to add the full length button plackets, but I found the instructions or placket width lacking as I struggled to squeeze on these plackets. Another mistake was forgetting to account for front placket width. That extra inch made the front bodice look even looser and sloppy. At this point, about the only thing I liked about the garment were the pockets. A big let down after coveting this dress for years. The fabric had been a favorite and I used what was left to make the dress, which I knew would not be worn as is.
So what went wrong… I suspect at least some of the problem lies in the grading process. As folks get larger, their necklines do not expand proportionately. The back should be yoked, and gathered or pleated. As a pear or triangle shaped person, perhaps this style was not a great choice, as it minimizes my already small top, and maximizes my ample bottom. Neither flattering, or comfortable.
In an effort to reclaim the beloved chambray, I removed the sleeves. I finished arm holes with bias binding. This added comfort but the large arm holes meant an undershirt would be needed. I reworked the gathers into a series of grouped pleats. It looked a bit neater, and moved extra roominess where I needed it the most. Now, I had a comfortable and wearable garment. I was hopeful, that it would be a good layering piece, but I am not convinced. Realistically it will probably be a great work apron but not much more.
I must end by saying that I do love Sew Liberated's designs. I made their Estuary skirt. It came out exactly as I had hoped, and yet it does not get worn. I have a significantly tilted waist, which the elastic waistband slips into leaving the skirt hem wildly out of alignment. To correct, I could alter the hem, but the difference in length between front and back would be very noticeable. So again, that was not a great choice for my body. I am thinking of putting suspenders on the skirt to see if that would help. In the meantime, I vow to take my specific body shape into consideration when choosing patterns in the future.