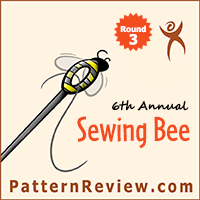 My outfit was made for bicycling. About five years ago on Mother's Day weekend, I injured my knee. Actually, my knee without warning simply disintegrated a bit. I had been very active, loving hiking and kayaking in the summer, and skiing and snowshoeing in the winter. Several times a day I walked my two German Shepherds. I sat with my knee elevated and covered in ice packs, staring at my brand new hiking poles that I had just received for Mother's Day and cried. After consulting with doctors I was given three options: surgery, drug treatment, or physical therapy. I choose physical therapy. My therapist and I together got me moving again. As part of my recovery plan, my therapist suggested bicycling. I scoffed at the idea at first. But, after a couple of timid attempts I was hooked. I fell in love with bicycling. How many times do you find something that is both good and good for you!
Being a short plus size woman, I can tell you my options for ready to wear (RTW) active wear were non existent. I did a lot of "man-me-downs", men's RTW clothing adjusted to fit me. For some reason men's RTW active wear, was available in much better quality fabrics and a wider size range. Still I felt a bit frumpy in my cobbled together biking outfits. When biking 20+ miles a day, seam placement is critical. My husband and I bike as much as we can. A trail literally crosses over our driveway and is a mere 4 miles into our home town, which is a lovely summer resort town on a lake. I run into lots of folks I know, and often in summer, I can bicycle into town much faster than I could drive. I love to visit the shops and meet friends at the cafes. But, I did not relish the idea of walking around town in my bicycling outfit. So my goal for this challenge was to create a more chic bicycling outfit, one that would transition from biking to shopping.
My outfit has five elements. The main bicycling half zip shirt is color blocked with synthetic knits. The pants are wide leg leggings with a yoga style waist band, which have zips on the back of the legs converting them into bicycle friendly pants. I made a quick camisole as an added layer for under my shirt. I then made a vest which can be packed into my bike bag, and provides a much needed pocket for when I am off the bike. To top it off I found a sweet sheer remnant and I made a scarf to complement the look. This comfortable flattering outfit will let me bike into town without looking like I just biked into town.
The bicycling shirt is from the Jalie pattern 2682 – Women's Top. It has a different neckline with a cut on collar, which is high in the back, and has a flattering v in the front. It requires four way 40% stretch, and has an optional front center zipper. Minimal seams around the neck, make this an excellent choice for biking. I have shorter than average shoulders, and with the cut on collar, the shoulder adjustments were tricky, but definitely doable. I also widened the waist and hip area a bit, and shortened the arms. The pattern offers so many possibilities for color blocking which I find very flattering. I love the look, and I will be making more of both the sleeveless and long sleeve versions, as soon as I can get my hands on some of the gorgeous active wear technical knits available today.
Click Here For my review of Jalie Pattern 2682
The pants were from Apostrophe Pattern's MyFit leggings. You buy access to a program that generates a pattern according to the measurements you provide, the percentage of stretch in your knit, and the style options you choose. For this project, I chose the wide leg seamless version, with a yoga style waist band. The first pair fit well, definitely wearable, but for my final version, I added one inch to back upper thigh area, and I lowered the back waist an inch. Minor tweaks but they definitely smoothed the finished look a bit. These result in amazingly comfortable pants, with a snug high waist band, and flattering wide legs with no outer seams. I sewed some "Fantastic Elastic" into top of the waist band for added snug fit. I used the technique I found in the book, "Knits for Real People" by Susan Neall and Pati Palmer. I hate the look of my legs in tight leggings, but I love leggings. I only wear tight leggings out of the house when biking. While much more flattering wide leg pants on a bike could be troublesome. I do not want my pant legs to get caught in the gears, so I added a v shaped zippered gusset on the bottom backside of the wide leg. This allows me to bend over and zip and unzip the pant legs easily. No more searching for a changing room, and lugging a second outfit. I can convert the pants from biking to normal pants easily. When zipped the excess leg material is kept loosely to the back of my calf, which is comfortable when pedaling. The high waistband is excellent for also maintaining modesty when bicycling. I highly recommend Apostrophe Pattern's MyFit leggings, I had made many options previously and the success rate is quite high. The key is getting your measurements right, and understanding and using stretch knits.
Click Here For my review of Apostrophe Pattern's MyFit Leggings including my zippered gusset hack.
My third item is a linen vest. I wanted something to jazz up the outfit once I am in town. I chose to make a light lined linen vest. The vest has a side in-seam zippered pocket, which can not only hold my cell phone and a few essentials, but also contains an attached bag to allow me to stow the vest in before packing it into my bicycle pack, keeping it neat and tidy. The pattern is self drafted using my sloper from Sure Fit Designs system. I added a couple of welt pockets and some rouleau button loops, and my signature shoulder straps. This took the "biking" out of my outfit and added some polish.
I added a couple of other items to round out the outfit. I really liked the long front zipper on my shirt, which allows ventilation, but I decided a camisole would allow me to unzip and still maintain modesty. The camisole is a SUAT – Stitch Upon A Time's Versa Cami pattern. I used fold over black elastic for straps. Layers are great on long bike trips and this used up the rest of my black knit. Win, win, win! I had all the knit fabric in my stash except one. Can you guess which one I bought for this project? The snakeskin print knit. I fell in love with the colorway and the texture, before noticing it was snakeskin. Not my first choice but due to time constraints I settled for this locally available knit fabric. While shopping for that knit, I also found a small remnant of sheer fabric, which screamed scarf. For the scarf I used my serger, and did a rolled edge, using water soluble stabilizer and wooly nylon in looper for better results.
This resulted in a polished looking outfit for romping around town in, which I can easily convert into a comfortable bicycle ready outfit for the 4 mile trip home. I will be making all of these items again, especially after I get some more pretty technical fabrics, that not only stretch but breathe, and wick moisture. I cannot wait! But wait I will have to do, as you can see it is not quite biking season here. 33 days until spring. It was a sunny 16 degree (Fahrenheit) day, while taking the photos. I took my hat off for most photos, but there is one included for fans of my favorite hat. Thanks to my dearest for his support and photography help, and to all for looking and sharing.