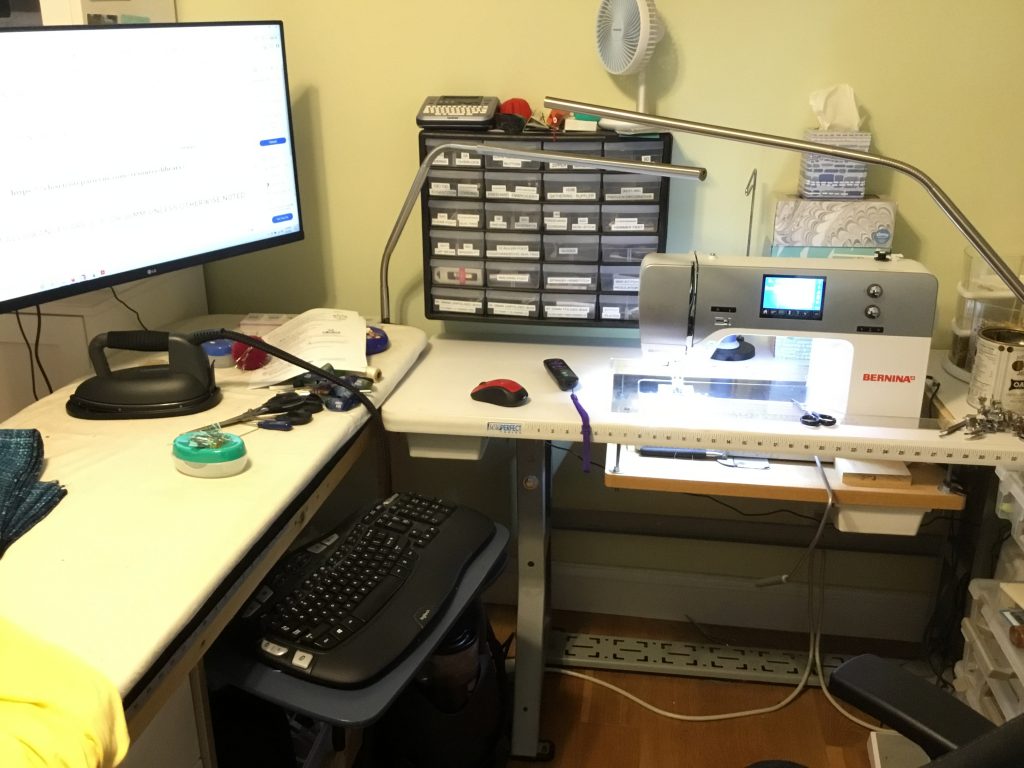 I have been garment sewing for almost 10 years. I have two small bedrooms to house my sewing, and one of the bedrooms still has to function as a guest bedroom occasionally. Over the past few years I have invested time and money to get my sewing space and stash into an organized state, and it has vastly increased the amount of sewing I do, and my enjoyment. I thought I would share of some of my discoveries.
I purchased most of the furniture from IKEA several years ago. I am very happy with my purchases. They have held up well, and are key to keeping my area neat. I use a narrow 9 drawer unit, that has 5 short drawers and 4 taller drawers which accommodates both smaller thread spools and the taller (serger) thread spools. This also keeps my thread dust free and out of the sun. In several tall narrow shelving units, I use art bin storage boxes, both the single and double sizes to contain my notions. I keep a label maker in my sewing room and each bin is labelled. All of my necessary notions are kept in these bins, such as zippers, bindings, elastic, buttons, ribbon, lace, pins and needles, tapes (twill, stay, and adhesive) and are within easy reach. Fabric is stored in several cabinets which sit on the floor with doors, or in closets on wire shelves to keep fabric dust free and out of the sun. The fabric is neatly flat folded on the shelves.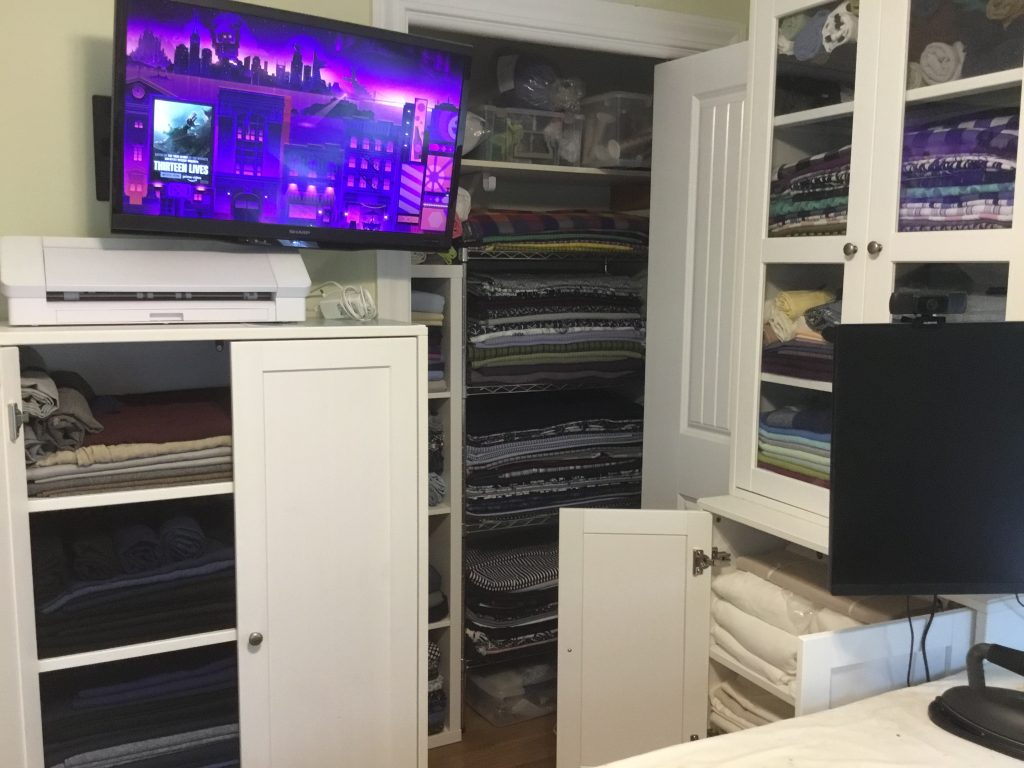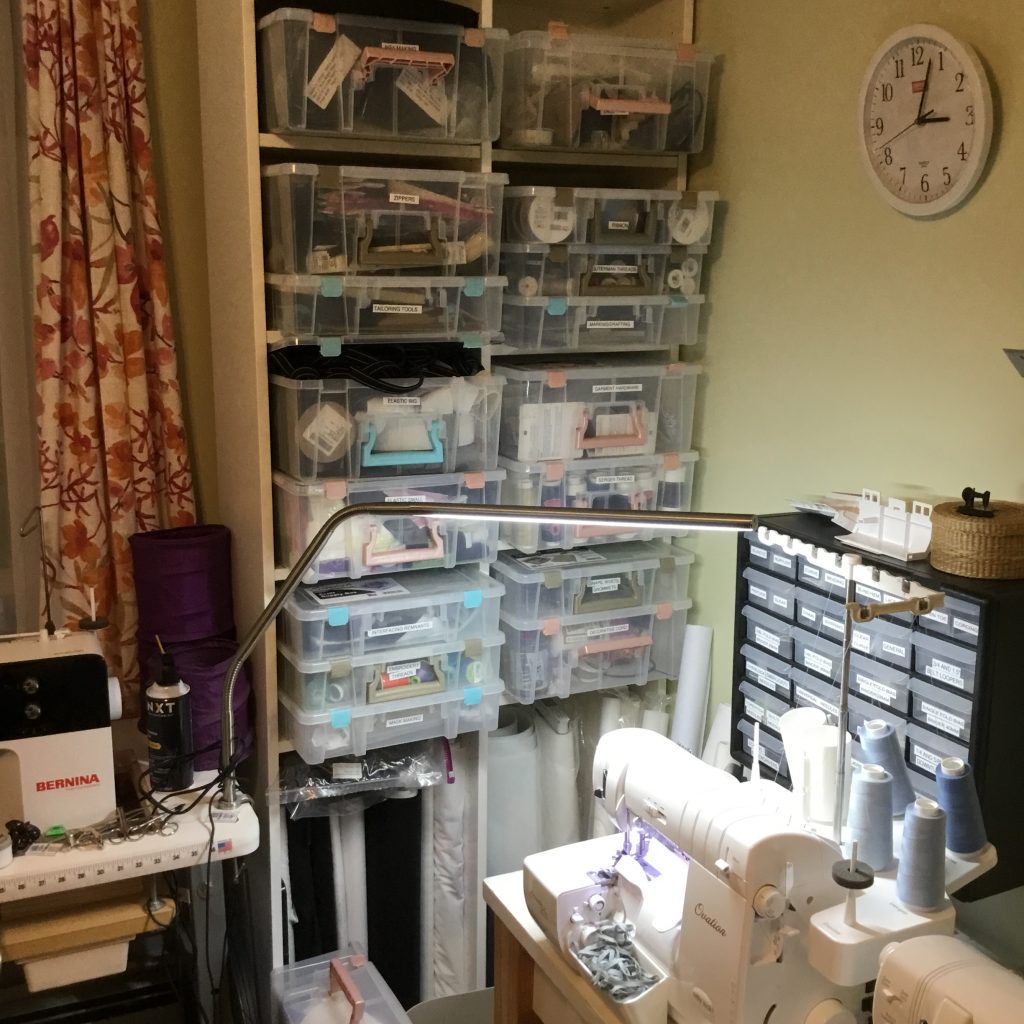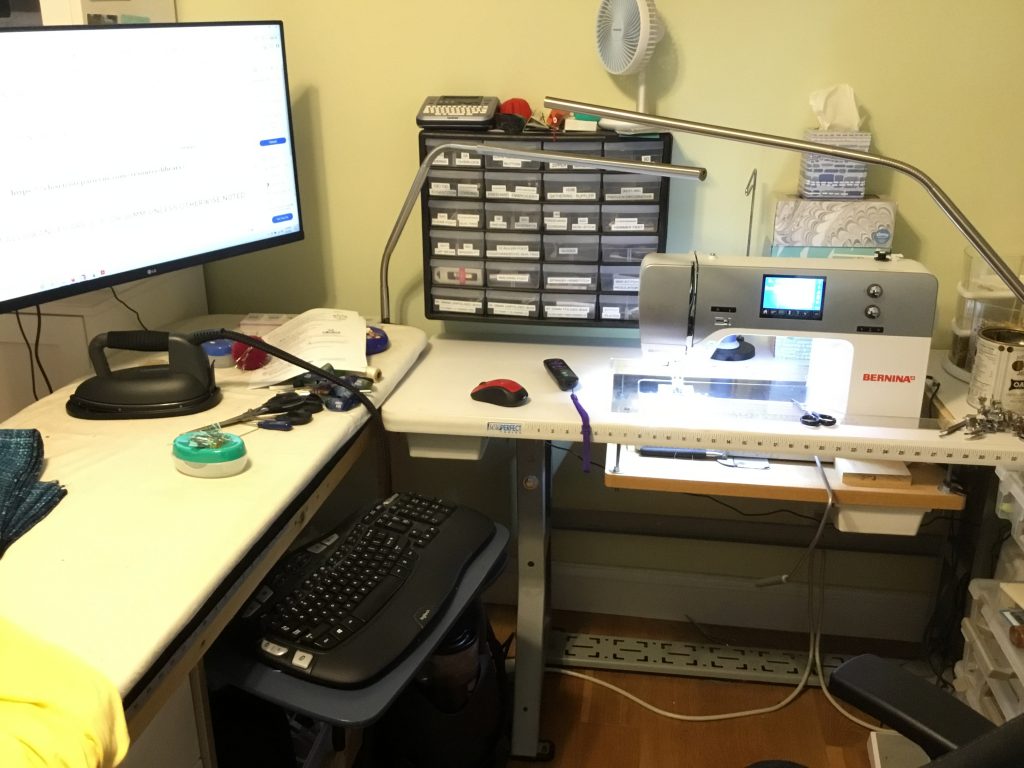 My husband built me a ironing station that fits a big board, and it sits alongside my sewing machine area. Just above my ironing station I have a monitor, and below the ironing board is a swing out keyboard and mouse station which allows me to access online materials while I work. With many patterns there are so many online resources such as: sew- alongs, videos, and tutorials which are so helpful to have in front of you while sewing. I have a cast off TV for light entertainment during those times when I am doing the mind numbingly boring tasks. I have two sewing machines (one embroidery equipped), and two overlock/coverstitch combination machines. One is always threaded for overlock and the other is threaded for coverstitch. I keep feet and other accessories in two small drawer units which are mounted to the wall, one for sergers and a second for traditional sewing machines. All of my machines sit on Sew Perfect Tables. These are very sturdy tables. I purchased rubber feet for them to protect the floors and cut down on vibration. These tables are not cheap or pretty but I will use no others. Sewing machines are investments which need to be protected. All my machines are plugged into grounded surge protectors. I have a single chair on wheels which allows me to easily move between ironing, sewing and serging. I purchased a set of rubber wheels which prevents the wheels from getting clogged with threads. I have three swing arm lamps which are installed in the corners, and can rotate to light up my different work areas. The variable speed ceiling fan is a blessing. In the closets I have a couple of wire shelving units and another IKEA narrow shelving unit. I also bought a couple of the metal rolling carts. I use magnetic hooks to hang scissors. One stays near the cutting table and is filled with tools needed to draft and cut patterns, such as pattern weights, tape, scissors, rotary cutters. The second remains near the sewing machine area and holds common items, such as pins, tweezers, stitch pickers, awls, clips, more scissors, common ironing items such as ham and organza ironing sheet, and basting threads.
My stash is organized into following categories: Bottom weight , Knits, Cotton and Cotton Blends, Linen and Linen Blends, Rayon and Synthetics, Fleece, Flannel. Any piece over 2 yards is catalogued. I snip a small sample and staple onto an index card with the following information: Category, Width, Yardage, Washed or Not, Stretch if any, Weight, special care instructions, where and when it was purchased if known. When I start a new project I can thumb through these cards and I will know if there is enough yardage before pulling fabric from the shelves. I found searching for fabric in my stash would cause large messes before this system. In time I will enter this into a database on my computer to help searching my stash even quicker. I also uniformly flat fold all my fabrics and store the fabric by category. Pieces smaller than two yards are neatly rolled and kept near the larger flat folds. This makes finding a piece of stash fabric very easy. This was time consuming, but I find I am using stash fabric more and more because I know what I have and exactly where to find it.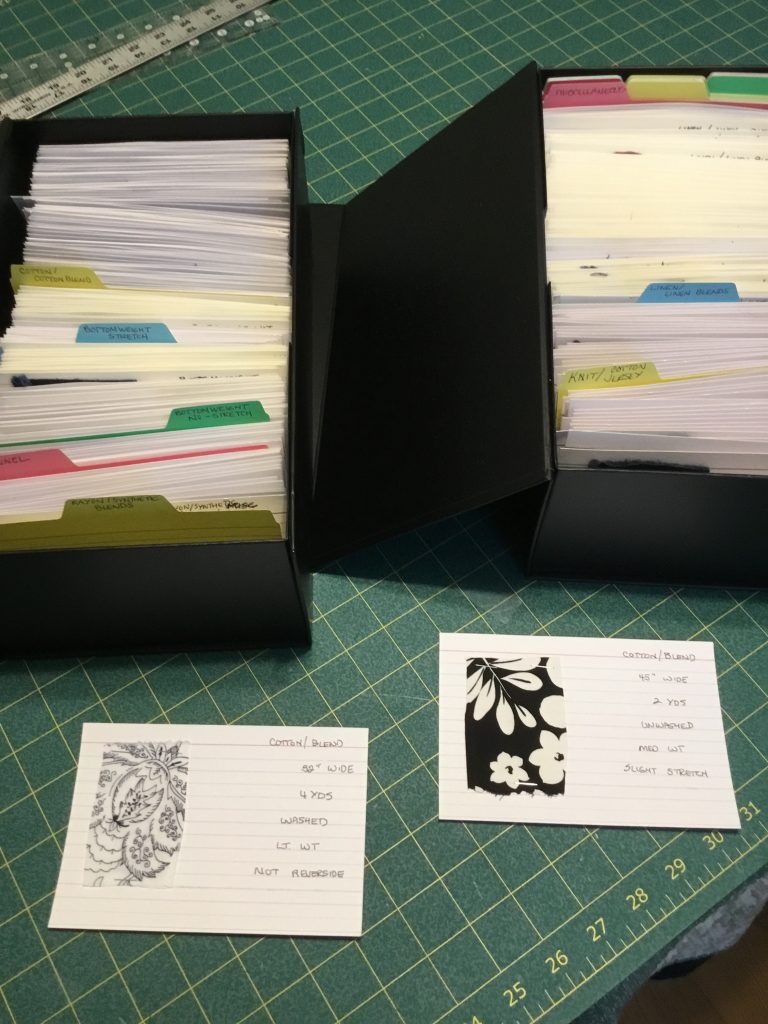 I typical purchase PDF patterns from indie designers. I print them on A0 paper. I will trace off of the printed A0 pattern, onto a pattern paper. Any modifications are made to the pattern paper pieces, thus preserving the original print out. I file the A0 print outs separately alphabetically by company name, and use clear plastic file folders to keep my traced off pattern pieces, instructions, or notes. I file them in magazine file boxes, again labelled by garment type: Dresses, Skirts, Pants, Blouses, Knit Tops, Knit Bottoms, Jackets/Outerwear, etc.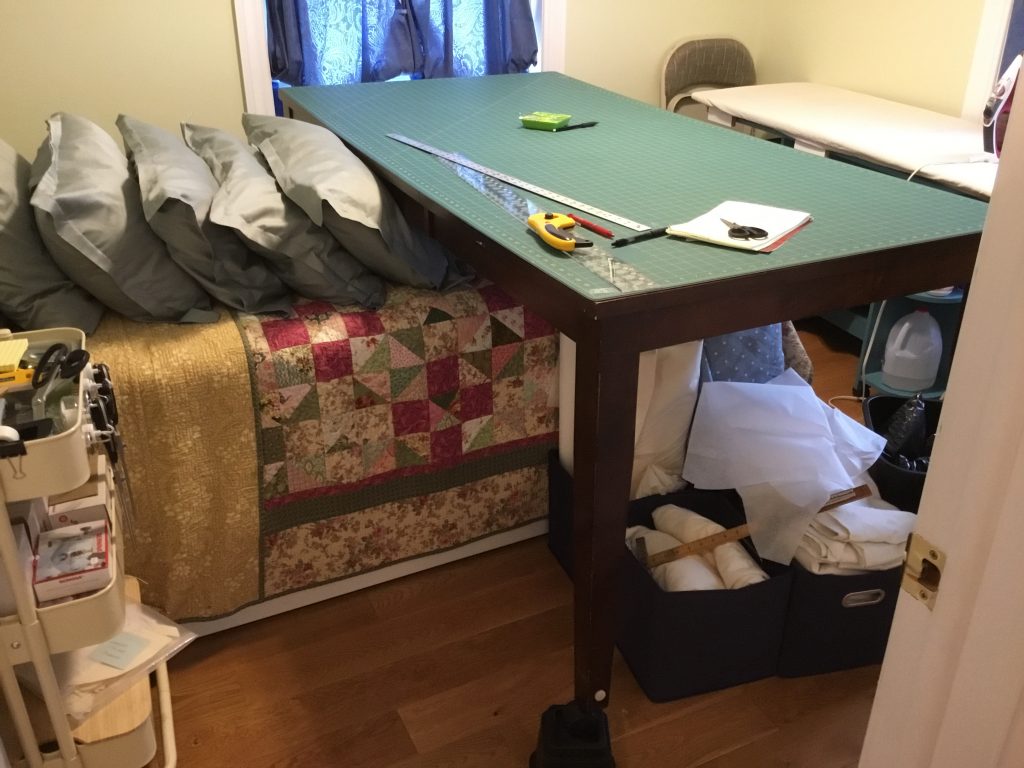 One of the biggest necessities for me was the need for a cutting table. In the second bedroom is a twin size bed, that can convert into a king size bed, another IKEA unit. I purchased a used dining table from a thrift shop that had a few leaves, and four legs that are on the outside corners. The table straddles the twin bed, giving me almost complete access to the table edges. I bought bed risers to raise the table up to make cutting and drafting more comfortable. I splurged on a large cutting mat for the top of the table. In this room I have a second ironing board which is another big board that sits upon a fold up rolling unit. This allows for ironing large pieces and is close to the cutting table. When guests come I carefully slide the dining table down past end of bed, which can fit over the top of the ironing station. The ironing station could also collapse by pulling the big board off and putting it in closet. Guest have access to a nightstand, bed, the top of the cutting table, and even a small amount of closet space for hanging. A floating shelf above the head of bed is great place for ruler and drafting supplies. A fourth swing arm lamp provides extra light.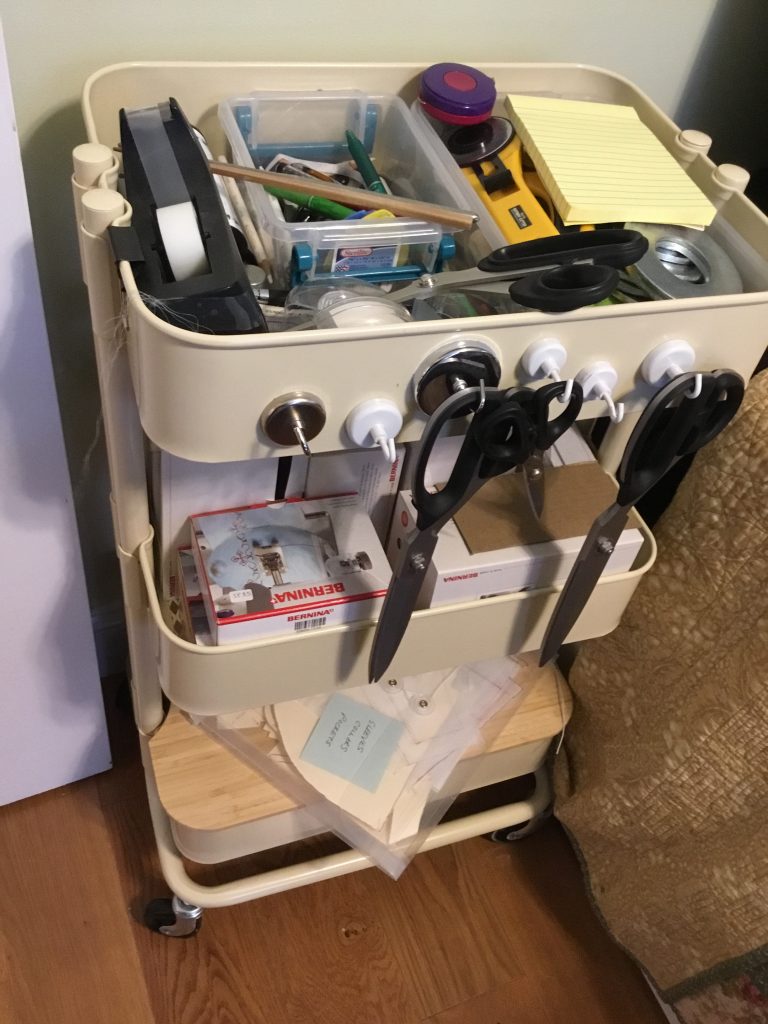 Assembling this work area took a lot of time and research. I was patient and often bought second hand, or from thrift shops, and budget stores whenever possible. I saved my money to buy quality machines, fabric, and notions. With the rising costs, it is such a time and money saver to be organized. I dreamed of retiring and throwing myself into my hobby of sewing and all the planning and preparation has paid off. I am not affiliated with any of the following products or manufacturers, but will share some of the product names that have served me well.
For scissors I use Kai scissors almost exclusively. For thread I purchase them online through Wawak and Superior Threads. Sewing machines are Bernina. Overlock/Coverstitch machines are Baby Lock. Irons are tricky and frankly I have never found one that I would recommend. That said I currently have a Reliable Steam Iron (distilled water), an Oliso (tap water), and a Laura Star steam iron (tap water and very $$$). Should enough time pass without failure I will update this post, but it is still too soon to tell. I tried many other brands and they all disappointed (Rowenta I so wanted to love you). My lighting is Slimline 3 Daylight lamps from Daylight Company. Many pieces were from IKEA. The ironing boards are from Big Board Enterprises. As for fabric, I purchase lots of dead stock. When I have perfected a pattern I then splurge on expensive fabric, but in the meantime I keep lots of affordable stuff around to practice on. My favorite online is FabricMartFabrics.com. I buy at a local selvage operation occasionally. I purchase most of the good stuff directly from local sewing and fabric shops to help keep them going. I have had little success thrifting fabrics, but many folks post great finds. Again, I have no affiliation with any of these sellers. Many of these purchases were made over the years so do your own research before investing. Things have may have changed over time. I just offer these as a place to start.
I hope these ideas can help make your own sewing space more organized and efficient, and leave more time and money for the fun stuff. Happy sewing!